Update 19/06/14:
MP office just told us that removal directions are cancelled.
Hussein is not being deported on 20th June.
Update 19/06/14 Wow, thank you all so much for your help we now have over 1500 petition signatures for Hussein, including the paper petitions and have raised £1400 which is enough to pay for the solicitors to put in an injunction to aim to halt the deportation. So we don't need further donations at this point. It's really amazing to feel the power of so many people working together to achieve this.
Please now help by e-mailing your MP and Hussien's MP and the airline Air Italia due to fly Hussien
Hussein Must Stay!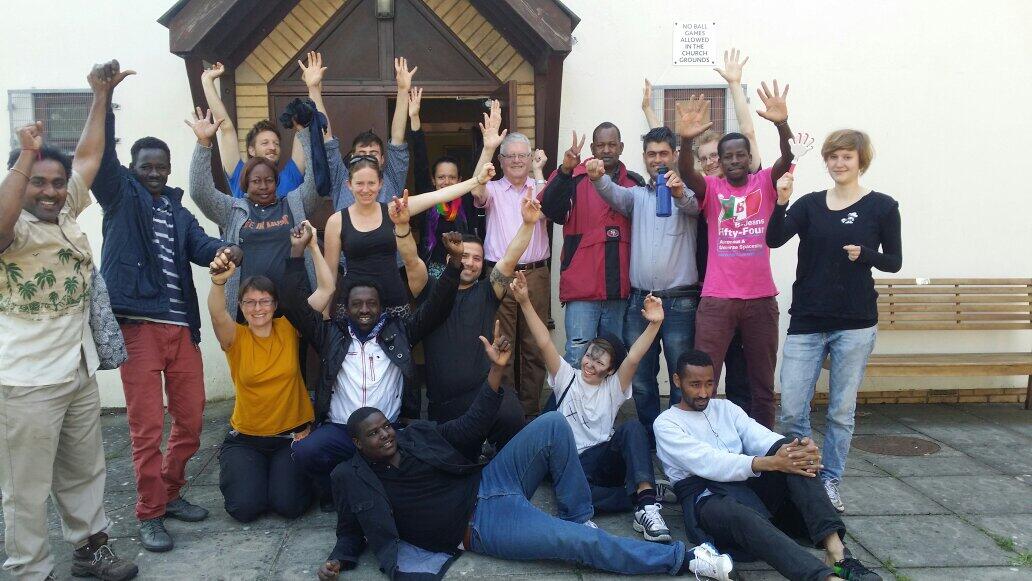 Hussein walked together with us from Bristol to Cardiff over five days
29/5 - 2/6,
to highlight how unjust the asylum system is across Europe. On our return to Bristol we expected to celebrate and continue working together for human rights. Instead, Hussein, a member of our community and participant in the march, was detained and taken to Campsfield Detention Centre. The Home Office want to deport him to Italy on Friday 20th June.
We want Hussein to stay because he is family to us.
We want Hussein to stay because he won't be safe in Italy.
We want Hussein to stay because in Italy the asylum system is collapsing.
Hussein Must Stay!
Hussein was a member of a political group opposed to the dictatorship in Chad. His best friend, cousin and father were all arrested and disappeared in 2010 and the authorities were looking for him. He fled to Italy, but in his asylum interview they stopped him giving important information, then refused his case with no explanation and no chance of appeal. He then found that his life was also in danger in Italy, he was threatened by groups connected to the Chad dictatorship.
He had to leave and came to the UK, which has no historical links to Chad. He thought it would be safe and to claim asylum, but the Home Office has refused to hear his case. Instead the UK wants to deport him on 20th June to Italy under the Dublin III regulation, where his life remains in danger. The Italian asylum system is under severe pressure, people wait for years in overcrowded immigration prisons and the chances of a fair hearing for Hussein's case in Italy are very low.
If returned to Chad Hussein faces persecution. To be returned would be in contravention of Article 3 of the European Convention on Human Rights. He must be given the opportunity to apply for asylum and seek safety in the UK.
We the undersigned people call on Her Right Hon Teresa May to stop the planned removal for 20th June to Italy and allow Hussein (H.O. No.A1802739) to claim asylum in the UK.
Italy's asylum system is under severe pressure and his life would not be safe there.